New multi-family housing permits are up over 30% since 2014. Growth in the housing and construction sector has always been a good indicator of economic growth for the future. Determining the reason for these increases is much more difficult.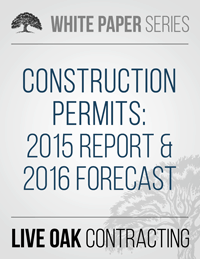 In our new white paper, "Construction Permits 2015 Report & 2016 Forecast," we will discuss in-depth what economists say regarding:
regional growth for new housing
single-family vs multi-family increases
demographic factors
federal interest rates
and 2016 projections
Download our new white paper and find out what drove the market this year and what the experts predict for the year ahead. You don't want to miss out on the information in this report.